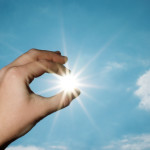 What does it mean to be a Happy Go Lucky Girl?
Does being a Happy Go Lucky Girl mean that we should be carefree and happy all the time? Well that sounds impossible even if we wanted to. Who among us does not have things to worry about in the future or regrets from the past?
Being a HGL Girl means that even though you worry about the future and have regrets about your past, you do your best to concentrate on the here and now. Now is the only thing we ever have power over. It means doing our best to see things from a glass half-full perspective, and trying not to ruminate about the past or fret about the future.
Everyone has negative issues in their lives, but even if we have to look hard, we can find positive things to focus on. We call those positive things "finding your bright spots". It is a choice that we can make every minute, of every day, and the more you do it, the better you become at it. We can teach ourselves to minimize the negative and maximize the positive. It is a life-affirming goal.
I bet you can think of movies, music, books and everyday heroes who remind you of this goal. Here are some suggestions to keep us on the bright path:
Books – The Ruby Bridges Story, by Robert Cole, Diary of a Young Girl, by Anne Frank, Man's Search for Meaning, Victor Frankl,
Music – "I won't back down", by Tom Petty, "Let Your Light Shine", by The Relatives, "Redemption Song", by Bob Marley, "Shake it off, " by Taylor Swift,
Movies – 42, The Jackie Robinson Story, The King's Speech, Milk, Courage Under Fire, and Life is Beautiful.
Remember, "Yesterday is history, tomorrow is a mystery, today is a gift, which is why we call it the present." – Bill Keane
-(Aspiring to be a) Happy Go Lucky Girl